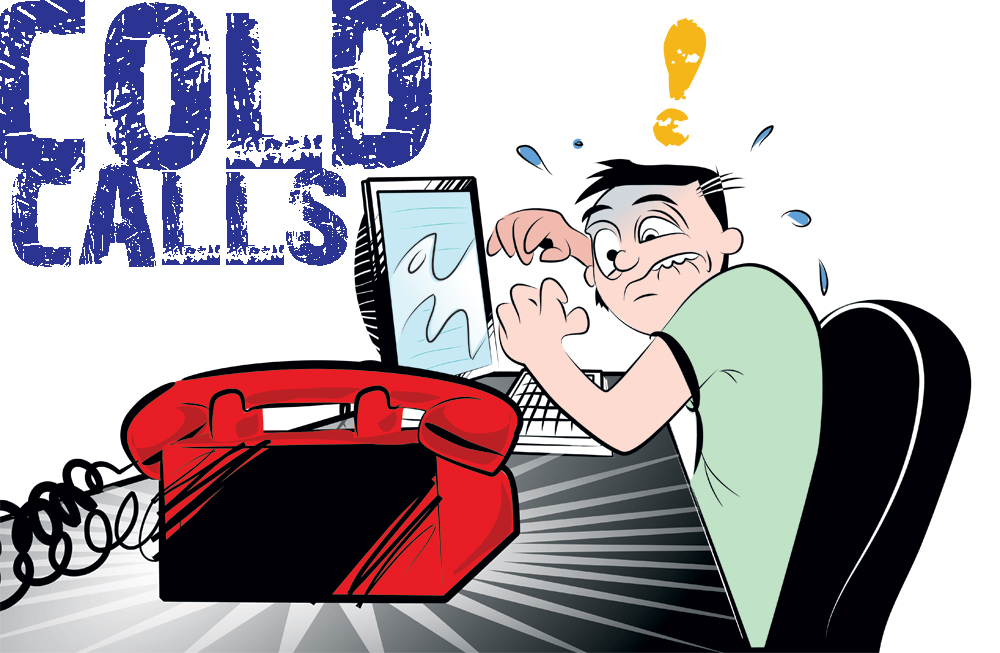 There is nothing fun about doing Cold Calls.
The calls are typically awkward and the minute you say anything related to a product, the person on the other end assumes..
"You want Money!! "
Truthfully you do, but the perception must be that you want to build a relationship
Think of it as a
"temporary financial adviser"
Your first call should never be about the product you offer.. It should be about introducing yourself and learning about your clients business and/or personal interest.
So many of us make the mistake of jumping right into the product so we can quickly
"Qualify"
the prospect
Think about it.. You call..
Maybe a sentence or 2 in.. Have you heard of X Product, it would be perfect for your business.. ?
Wooooahh buddy! Slow Down : ) Ha Ha!
I was guilty of this when I worked for the HEAT.. about 20 seconds into the conversation I was reaching for their pocketbooks and the reactions were not pretty.
I realized I would find myself calling these same people back to make sure that they were certain they were interested in what I was selling, but that initial call I could have done a better job of building up some sort of report.
So Here is the Secret Sauce aka..
The Best Way to Cold Call:
1. First Call should be an introduction of yourself and elaborating how you are their rep.
Do Not:
Push for a Sell unless they initiate the sell
(See Example Below)
Good Morning/Good Afternoon! This is Anthony Fernandez(insert your name) calling from the Orlando Magic(Example Purposes) and I just wanted to wish your Company a Happy New Year!
(Wait for Response) Typically: Thank you!
Your are very Welcome! So you guys know, I am your point of contact here at the Orlando Magic
So if your company/or you guys(to make it more casual) are ever interested in making it out to a game feel free reach out to me.
I would love to send over my contact information, what would be a good email address to send it to?
Alright, thank you for your time and once again Happy New Year!
Don't get me wrong, much of that sounds great on paper and depending
on your Company
and
what you Sell
it will have to be altered, but the over premise is to:
Introduce Yourself
Mention that you are their rep
You are here to assist
Providing an open line of communication
So then, What Now?
2. Take notes from your First Call.
Make sure to get distinct details of the call

Especially what might have stood out that would of been unique to them
I.e. them mentioning their kids, activities, project they are working, etc.

Feel out the conversation and how the prospect felt about you reaching out
Many times it depends on what mood you caught that person in. They could be huge basketball fanatics, but they just got a huge project put on their lap, but that is why its best you provide them an open line of communication by getting their email address and/or better contact information.
3. Follow up in a week or 2 depending on how interested the person sounded.
The first round of calls should be just introducing yourself and the second round is you following up on if they received your email and a continuation of your last conversation
These are great steps to get going with Cold Calls. There are so many selling tactics that will come with experience on calling new prospects, but this will get you headed down the right road.
Just when you thought I was done.... Here are some get things to keep in mind
What they don't tell you about Cold Calling:
There will be awkward silent moments
You will be hung up on
You will be rudely dismissed as some scam artist
The receptionist will drill you from every angle on what you "really" want
Everyone is seeking a deal, so be ready to answer some crazy questions/requests
Not everyone is having a good day
Hope you enjoyed this post.
Thank you for taking the time to read my blog.
Anthony F.